You are here:
Congratulations to our new masters in Analytical Chemistry
Congratulations to our new masters in Analytical Chemistry
Another successful school year got a fantastic ending when eighth masters' students on the Analytical Chemistry program defended their Master's theses.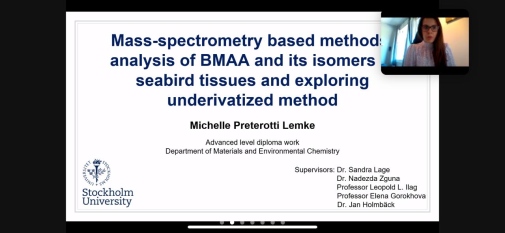 During two days, 3rd and 4th of June, we were engaged in presentations and scientific discussions on topics ranging from esoteric bubble biofilms and naturally occurring neurotoxin BMAA and polybrominated compounds found in algae to allergens found in textiles and how these may interact with proteins eliciting contact dermatitis.
All of these made use of advanced analytical tools mainly focused on mass spectrometry, gas, and liquid chromatography. Some also used combustion ion chromatography to estimate the total fluorine content in marine mammal samples. One study used machine learning to predict ionization efficiencies in electrospray mass spectrometry and semi-quantify the suspected contaminants in environmental samples.
We are especially happy that in spite of complications due to covid all students had vast opportunities in testing out different analytical instruments and gaining a year long hand-on experience.
Topics:
Michelle Preterotti Lemke Mass-spectrometry based methods: Analysis of BMAA and its isomers in seabird tissues and exploring underivatized method
Bashar Abdelahad: Lipid profile analysis in microbial biofilm from the Ytterby mine, Sweden
Linus Avstrand: Target analysis of synthetic phenolic antioxidants in human serum, prioritized by using an exposure index applied to the Swedish Products Register
Linnea Andersson: Development of a UHPLC-MS/MS method for analysis of naturally produced hydroxylated polybrominated diphenyl ethers
Samantha Sasse: Contact Allergy: Increased Mechanistic Understanding and Identification of Potential Biomarkers
Awat Ali: In vitro skin absorption studies of textile-related chemicals
Faiz Haque: Identification of unknown organofluorine in blubber from a Greenland Killer Whale (Orcinus orca)
Thomas Ledbetter: Closing the organofluorine mass balance in marine mammals using suspect screening together with machine learning-based semi-quantification
Information for international students
Course application
Find us