Master's Programme in Organic Chemistry, 120 credits
Welcome to Sweden's largest and most prominent Department of Organic Chemistry! This new MSc programme is constructed around our prominent and internationally recognised research areas and we are looking for ambitious students who wants to become experts on how small molecules can be produced, how they look and how they interact with each other.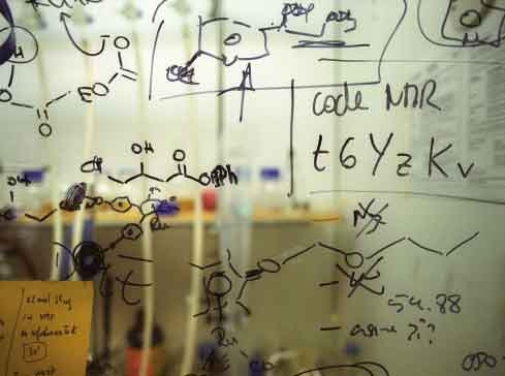 Why choose Stockholm University?
Top class education connected to frontline research
The Department of Organic Chemistry is Sweden's largest and most prominent institution in the field and aims to excellence in both synthetic and analytical organic chemistry. Our research profile covers topics such as organometallic chemistry, catalysis and natural product synthesis, and we are keen to reflect this in our MSc programme. All teaching staff are active reseachers, offering our students vast opportunities to come in close contact with recent scientific advancements through lectures, lab work and course projects.

Unique lab work opportunities with student centered teaching
Our student groups are small and there is a familiar and informal learning environment with good relations between students and teaching staff. We value lab experience and a significant part of your studies is dedicated to individual practical work and a number of advanced techniques. In your final degree work you will perform a research project in one of the research group at the department, which provides a unique opportunity for high level research experience.
Programme structure
This programme is designed to give you a solid base in advanced organic chemistry, with possibilities of forming a unique degree profile. The Organic Synthesis course is directed towards students with an interest in gaining understanding in how organic compounds are prepared and modern organic synthetic methods and techniques. If you are interested in focusing on the structure and dynamics of larger organic compounds, you are offered the Bioorganic Structural Analysis course. This course aims at demonstrating how modern structural analysis techniques, e.g. nuclear magnetic resonance (NMR), can be used to attain such information. You can choose to take both courses or combine one of them with another elective chemistry course of your interest.
The second year comprise an Advanced Organic Chemistry course parallell to you degree work. In the degree work, you will apply your acquired knowledge and experimental skills in a research project. This project is generally performed with one of our research groups at the department and you will independently plan, execute, report and defend your project. The programme outline is illustrated below. Please note that this outline can be subject to change.
The Swedish credit system is compatible with the European standard ECTS. 30 ECTS is equivalent to one semester of full time studies.
First year (60 credits)
Autumn
Spring

Advanced Organic Synthesis, 15 credits


Bioorganic Structural Analysis, 15 cretis

Organometallic Chemical - From Chemical Bonding to Asymmetric Catalysis, 15 credits

Elective course*, 15 credits
Second year (60 credits)
Autumn
Spring

Elective course*, 15 credits

or

Start of Degree project, 60 ECTS

Start of Degree project, 45 credits

Degree project in Organic
Chemistry, continued



*See all elective chemistry courses here.
Examples of recent degree projects:
1. Degree project A
2. Degree project B
3. Degree project C
Career prospects
The society needs organic chemists, for example, in the pharmaceutical-, forestry and technical industries, as well as for teaching and research. With an MSc degree from this programme, you are offered extensive and exciting work opportunities. This programme provides an excellent foundation for PhD studies and our graduates also work in sectors such as AstraZeneca and ALS Scandinavia (pharmaceuticals), Sandvik Coromant (material development), SciLifeLab (life science), ICA Group (food industry) and the Swedish Chemical Agency (public sector).
Application procedure
The application period for our Master's programmes starting in autumn 2019 opens at October 15th. You apply by following the three steps below, and your application should be registered no later than January 15th.
Scholarships and funding
The scholarship scheme at Stockholm University is aimed at especially qualified students coming from countries outside of EU/EEA/Switzerland and who are required to pay tuition fees for studies. Show scholarships offered by Stockholm University.
The Swedish Institute Study Scholarships target highly-qualified students from certain countries. The scholarships will be awarded for master's studies in Sweden, starting in autumn and covers both living costs and tuition fees. Show scholarships offered by the Swedish Institute.
You are also encouraged to investigate what scholarships are available through your university, government or international organisations.
Contact
If you are left with questions or need more information about the application procedure, programme structure or practical details concerning your studies at Stockholm University, please do not hesitate to contact our Student Office.

We look forward to your application!

Last updated: January 24, 2018
Page editor: Isabell Stenson
Source: Chemistry Section