You are here:
Stockholm University receives four ERC Advanced Grants
Stockholm University receives four ERC Advanced Grants
Four researchers at Stockholm University are awarded prestigious ERC Advanced Grants. Their areas of research are within theatre studies, neurochemistry and physics. One of them is Professor Christian Broberger at the Department of Biochemistry and Biophysics at the Chemistry Section.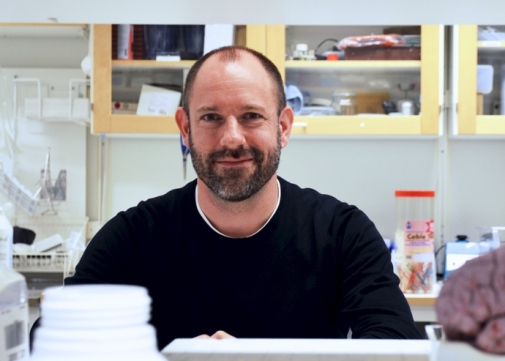 Christian Broberger, professor in Neurochemistry at the Department of Biochemistry and Biophysics, is one of four scientists at Stockholm University that has received an Advanced Grant from ERC for his project "E Pluribus Unum: Principles and Plasticity of Electrical Coupling in a Neuronal Network".
In the ERC-funded project Christian Broberger and his colleagues at the Department of Biochemistry and Biophysics will investigate how gap junctions are regulated and change the ground rules for neuronal networks. In their work, they will make use of a surprising species difference in electrical coupling that they recently demonstrated explains why male mice care for their pups, while rat fathers leave the parental chores to the mother. This new discovery was recently published in the scientific journal Cell. If you want to read more about how parenting strategies in male rats and mice are determined by species-specific oscillation frequencies in hypothalamic dopamine neurons, please follow the link below. Gap junctions are not found in all neurons, but are strategically distributed in the nervous system, which makes them promising as e.g. drug targets.
"In this project we want to find out what it means for the neurons to be connected with each other, both for the networks that these cells form and also how the brain causes differences in for examle parental behaviour", says Christian.
Three other scientists who were awarded with the same grant are:
Meike Wagner, Professor of Theatre Studies at the Department of Culture and Aesthetics, receives an Advanced Grant to the proposed project "Performing Citizenship. Social and Political Agency in Non-Professional Theatre Practice in Germany, France, Britain, Sweden and Switzerland (1780-1850)".
Hiranya V. Peiris, Professor of Cosmoparticle Physics at the Department of Physics and Director of the Oskar Klein Centre, receives an Advanced Grant for the proposed project "Exploring the Cosmos with the Vera Rubin Observatory".
Lars G.M. Pettersson, Professor of Theoretical Chemical Physics at the Physics Department, receives an Advanced Grant for the proposed project "Gases in Water".
ERC Advanced Grants are the most prestigious grants awarded by the European Research Council (ERC). The grants are aimed at excellent researchers and guarantee long term funding for ground-breaking and high-risk projects.
To read the study "A Neuro-hormonal Circuit for Paternal Behavior Controlled by a Hypothalamic Network Oscillation" by Stagkourakis et al (2020) Cell, please follow this link>>
To read more about Christians research, please follow this link>>
To read more about the scientists who were awarded the Advanced Grant, please follow this link>>