Master's Programme in Molecular Techniques in Life Science, 120 credits
Our understanding of the human body on a molecular level has advanced dramatically in recent years which has led to the development of new therapies and diagnostic tools for the effective treatment of diseases. Students at the Molecular Techniques in Life Science programme will receive a comprehensive education in life science emphasising cutting-edge methods in bioinformatics analysis of big data, combined with state-of-the-art techniques used in modern "high throughput" molecular biology. Students will also learn how to translate biological findings into diagnostic tools and novel treatments.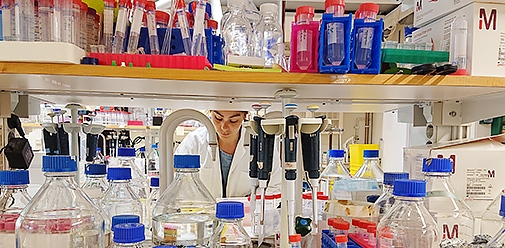 Why choose this programme?
This programme is delivered by a team of teachers who are internationally recognised researchers in their respective disciplines to ensure a relevant curriculum at the research forefront. The courses give a solid education in a combination of molecular biology, biotechnology and medicine with a focus on high-throughput biology and analysis of big data for translation of biological findings from lab bench to patient bedside. The programme also develops skills and abilities essential to the professional career – including oral and written presentation, teamwork, and how to make ethical and societal considerations about life science related issues, all of which are important for the ability to lead projects in academia and industry.
Programme structure
First year
The first year contains advanced level courses in genetics, biophysical chemistry, and translational medicine, as well as the foundations of bioinformatics and comparative genomics. There is also a project course. All three universities offer courses during the first year, with an emphasis on Karolinska Institute (fall semester) and Stockholm University (spring semester).
Second year
The second year offers courses in applied gene technology, proteomics, drug design, and bioinformatics analysis of large-scale data. There is also a project course. Most courses during the fall semester are offered by KTH Royal Institute of Technology. During the spring semester, the individual degree project is performed.
Degree project
The degree project is performed during the last semester of the programme, where the student works on a research topic related to the theoretical courses in the curriculum. The project is carried out in a research group at Karolinska Institute, KTH Royal Institute of Technology, Stockholm University or at Science for Life Laboratory, Stockholm; or in any other internationally recognised university or research institute or industry. The programme outline is illustrated below.

Career prospects
The combination of molecular biology, biotechnology and medicine provides an excellent profile for a professional research career in an academic setting or in the biotechnological and pharmaceutical industry. The life science industries and academic institutions working in these areas are active and the life science sector is expanding worldwide, which gives students an excellent job market and wide range of possible employments.

Application procedure
The application period for our Master's programmes starting in autumn 2019 opens at October 15th. You apply by following the three steps below, and your application should be registered no later than January 15th.
Step 1. Check that you meet the entry requirements
Step 2. Apply online
Step 3. Upload your documents

Scholarships and funding
The scholarship scheme at Stockholm University is aimed at especially qualified students coming from countries outside of EU/EEA/Switzerland and who are required to pay tuition fees for studies. Show scholarships offered by Stockholm University.
The Swedish Institute Study Scholarships target highly-qualified students from certain countries. The scholarships will be awarded for master's studies in Sweden, starting in autumn and covers both living costs and tuition fees. Show scholarships offered by the Swedish Institute.
You are also encouraged to investigate what scholarships are available through your university, government or international organisations.
Contact
If you are left with questions or need more information about the application procedure, programme structure or practical details concerning your studies at Stockholm University, please do not hesitate to contact our Student Office.

We look forward to your application!
Last updated: December 18, 2019
Page editor: Isabell Stenson
Source: Chemistry Section