Meet Aitor, PhD Student in Organic Chemistry
My name is Aitor and I am a 29 years old PhD student at the Organic Department at Stockholm University. Let me tell you a bit about myself and how I ended up at this Department.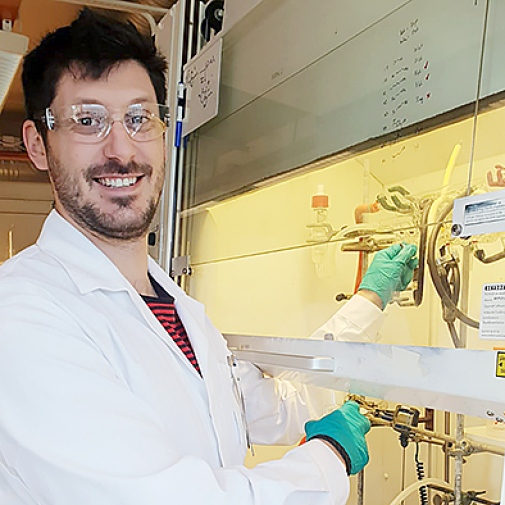 I jumped into the Chemistry world around 12 years ago form now, when I enrolled in a 5-year Degree in Chemistry at Universidad Autónoma de Madrid, Spain (2007-2012). During that time I studied all the different fields in Chemistry, what allowed me to have preference for some of them over others. I personally enjoyed Organic Chemistry and Biochemistry the most and a desire of expanding my knowledge and continuing with further studies started to grow in me.
It was when I finished my Degree that, due to difficulties finding scholarships and fully funded programs in my home country, I decided to do a more practical Masters Degree in Chemical Engineering, with the aim of finding a job right afterwards. Everything was as planned and everything seemed to be sorted out, but just after 6 months working in a Chemical Company, and realising that that lifestyle was not made for me, I decided to take a break and improve my English skills, hoping that it would help in the near future apply for further studies abroad.
Floorball and the Nobel Prize
After spending two years in Sydney, Australia, I felt ready and started searching around (online) for some programmes in different universities in Europe. I have to say that thanks to the sport I have been practising my whole life (floorball, or innebandy in Swedish) I had had the chance to get to know quite a few nordic people, and had some close Swedish friends. Their way of thinking, behaving and caring about others always kept my attention, so I wondered, could this be my last chance to move there and get to know a bit more about the Nordic culture? So I started looking for good programmes in Chemistry in Finland, Sweden, Norway and Denmark. After making a large list of possible destinations, I proceeded to rank them, based on their reputation and location.
As you may know, Stockholm is commonly known for the Nobel Prize Awards in Science (Chemistry), which pushed this city to the top of my ranking list. After checking the different research groups and Professors at the Department of Organic Chemistry (with very good reputation, being among the world´s top 100 universities), I decided to give it a try and apply for the Masters Programme in Organic Chemistry, at Stockholm University. I was accepted and I did not think about it twice, I moved straight away back from Sydney to start this exciting Programme in September 2016 with the aim of finishing it and being eligible for a PhD position.
Project work and PhD studies
The first course I read as part of the Masters Programme was Advanced Organic Synthesis, and although each student had a different background, the Professors managed to make every student feel comfortable and cared for. This helped each and every of us keep motivation for the following courses. Although the Masters Programme is planned to take two full years (a first year of theory and a second and last year of practical project work), after reading my second course, Organometallic Chemistry, I decided to apply for the project work in Professor Belén Martín-Matute´s research group. I was accepted to do a 1-year project group in the topic "Bifunctional NHC-Ir(III) complexes for catalysis". I read the rest of the theoretical courses while doing the project, which I defended in October 2017. I am very excited to say that right after completion of the Master's Degree, I applied for a PhD vacancy in the same research group, to continue with the research I had been performing. Happily, I was offered the place and started my PhD studies 😊.
After one year, the results that I started working on when I came as a Master student have been further developed and got published, being now part of my PhD thesis. I am very happy to continue with my formation in this amazing group, and continuously getting to know new interesting people and very well known Professors in the field. Doing the PhD at this department also provides me the opportunity to attend the Nobel Laureates lectures every year, and in some cases, have short conversations with them! Something I could have never think of years ago.
Nothing better than a "fika"
There are still years of hard work and teaching in order to finish my PhD, but the motivation increases every day thanks to everyone at the Department (specially to Prof. Belén Martín -Matute and the whole research group), who help you feel welcome and confortable. There is nothing better than a "fika break" (Swedish coffee break) with nice people when busy times come! I fully recommend it!!
Aitor Bermejo Lopez
Senast uppdaterad: 18 december 2019
Webbredaktör: Charlotte Boegård
Sidansvarig: Kemiska sektionen